CMS Families, Parents, Staff, and Students, Thank you for an amazing 1st Day of School! We were able to kick off the new year in style! It was great to see staff, students, and parent volunteers connecting and having fun together. We have uploaded an album (2021 CMS First Day of School) to our facebook page if you want to see our Broncs and Fillies on their first day of school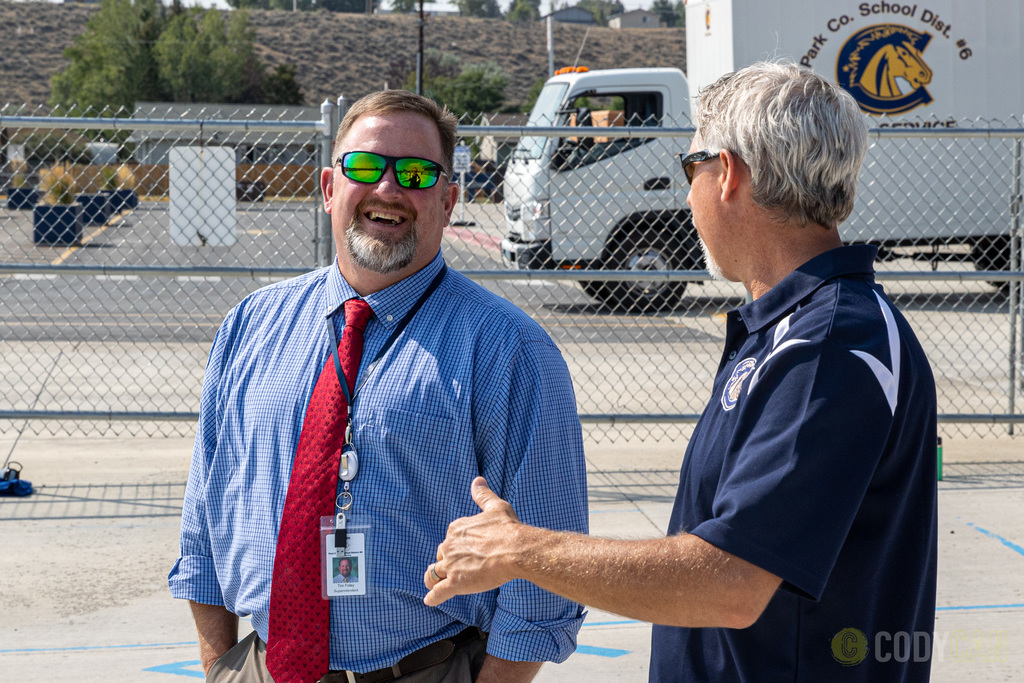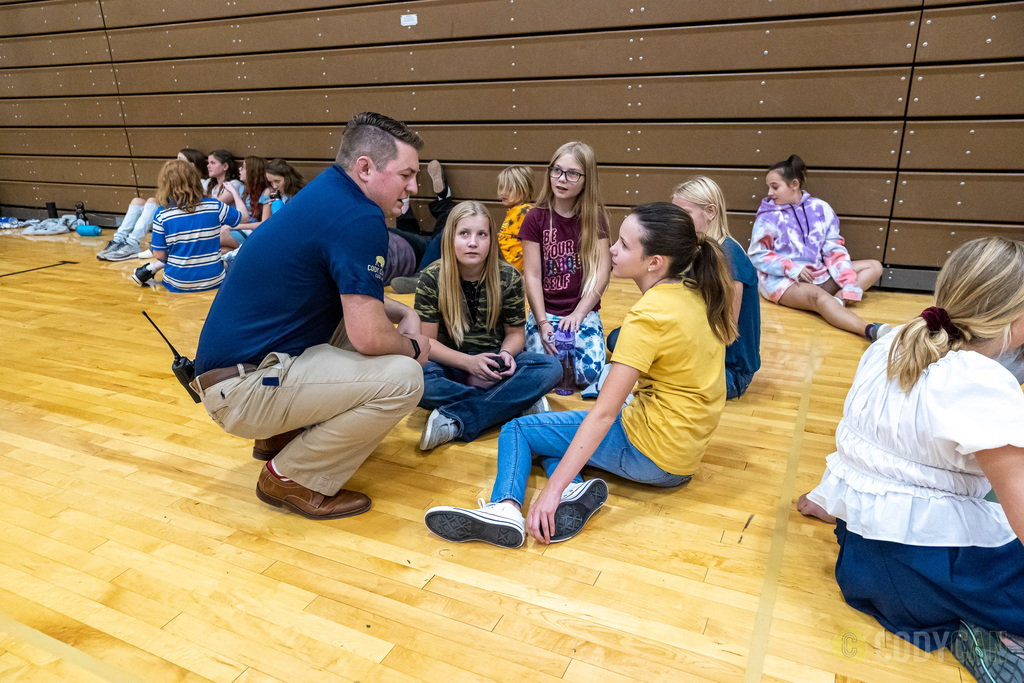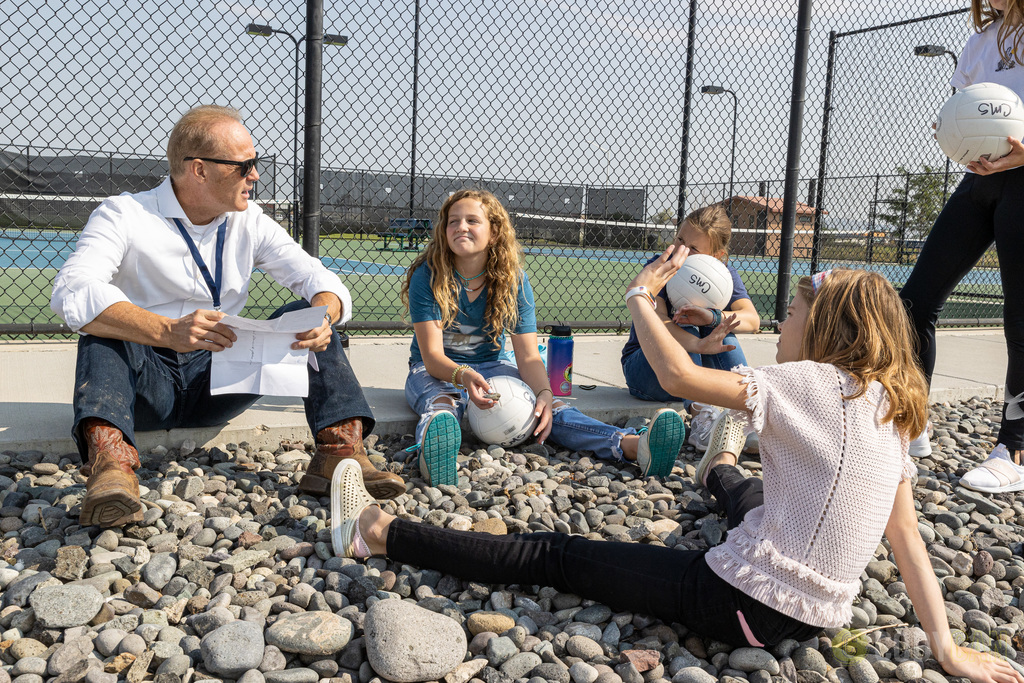 CMS Families, Parents, and Students, Welcome Back to Cody Middle School! We are excited to be opening our doors and welcoming in all of our CMS Broncs and Fillies for the new school year. CMS has a new administrative team this year and both Principal Tedjeske and Assistant Principal Gogan are anxious to meet all of our families, parents, and students. We wanted to reach out to our CMS family to keep them up-to-date on all of the exciting things happening at CMS this week! First, our school is open to the public Monday, August 23 and Tuesday, August 24. Folks are invited to drop by and meet the CMS staff, tour the building, figure out lockers, and get settled in before the start of the school year. Second, our first day of school will look a little different this year. CMS Staff will be meeting students of all grade levels at the front doors this year. Schedules, if not already received, will be handed out to students at this time. Students will enter the building in different areas, according to grade level. All CMS Staff will be on hand to meet students, help with any locker issues, and answer any questions. Students will be allowed to enter the building at 7:50 AM. At 8:00 AM students will report to their first (1st) period class. From 8:25 to 11:30 6th, 7th, and 8th grade students will rotate through different stations throughout the school. At 11:36 AM, depending on their schedules, students will report to either their Advisory, Lunch, or Recess period. During this advisory period students will be receiving their Chromebooks. From 12:52 - 3:30 , students, according to grade level, will again rotate through stations. CMS Admin and teachers will be reviewing the Student Handbook, Standard Response Protocol for emergencies, as well as answering any student questions. Students will be released from CMS at 3:30, and that will complete their first day for the 2021 - 2022 school year!! Family / Parent Drop Off and Pick Up For families and parents dropping off and picking up students, please be patient. CMS will utilize both lanes for pick up and drop off. Please be sure to follow the flow of traffic and watch for students crossing the street. We know the first day of school can feel overwhelming, but please do your best to follow CMS Administration and Staff directions. Our goal is to unload and load students in an efficient and safe manner. School Nurse Note Each student will need to continue to bring their own water bottle this year. Students will not be provided with paper or plastic cups throughout the day. Also please be sure that if your student has a health plan or needs any medications while at school that those are brought into the nurse. Our nurse will be sending a more detailed email about vaccination records, emergency health plans and prescribed/over the counter medications soon. Chromebook Device Students will receive their chromebook device during advisory classes on the first day of school. The computer protection fee of $25 is due by then and can be paid for at the front office.

Hello from Cody Middle School. Please read this notice for important information pertaining to the start of the 2021-22 school year. If you have received this message and your student will not be attending CMS this school year, please call 307-587-4273 or email 
brendafarmer@park.org
Returning to Dist.6 CMS Students: Our online registration for Cody Middle School "Returning Students" is currently open for the 21-22 school year. Please check your email for instructions to get your student(s) registered. All returning students coming into the middle school must have this registration completed by August 20th. All CMS Students: Student schedules will be available through the Powerschool portal on August 18th. Students/parents can login into their accounts to view schedules at that time. (​schedule changes will be kept to a minimum and only with an administrators approval) The school will be open on August 23rd and 24th, from 8-4, for students to put school materials into their lockers and for parents to visit the front office to ask questions and/or make any payments. (If you would like to come in before this date to take care of any sports payment/paperwork, please contact Susie Umphlett at
sumphlett@park6.org
or at our front office. (307-587-4273) 6th Grade Students Lastly, 6th grade orientation will be on Aug 17th. The schedule is as follows: 2:00 PM-2:30 PM Students A-G 2:30 PM-3:00 PM Students H-P 3:00 PM-3:30 PM Students R-Z + 6th grade band camp students If you have any questions about any of this information, please contact the Cody Middle School Front Office at 307-587-4273.. Thank you and have a wonderful day!

Greetings Everyone, I hope you are all enjoying the summer. My name is Nathan Tedjeske and I'm the new principal at Cody Middle School. I wanted to have the opportunity to get to meet some of the families of our students this upcoming school year, as well as give people the chance to meet me as well. On July 6th from 9-11 and July 15th from 1-3, I will be at Rawhide coffee to do just that. There is no agenda and it isn't formal, but it is a chance to sit down and have a conversation and get to know one another. I hope that the available times give people the chance to stop by, but if neither time works and you'd still like to meet, email me at
nathantedjeske@park6.org
and we'll set something up. Have a wonderful day and enjoy the rest of the summer!

Compete For A Cause- see flyer for more information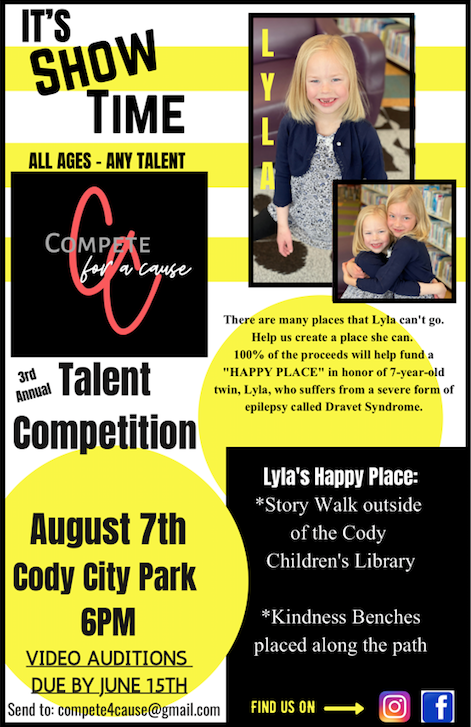 CMS Update- the mask exemption request from the Park County Health Officer was received on Saturday. This allows for masks to be optional in the school setting. At CMS, we ask that all students, staff and parents/guardians be respectful of the choices each person makes in regards to one's personal choice. Those that want to continue wearing them are free to do so, those that do not want to wear them are free to take them off. Thanks for your help and we are glad that all sides have this option.

A big "THANK YOU" to our Cody Middle School volunteers!!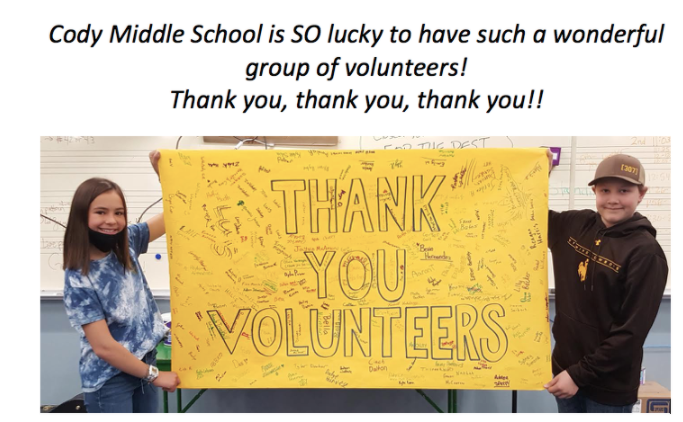 Dear CMS Play Parents/Guardians- Due to outdoor activities being canceled tonight, Mr. Murray and Mrs. Bree will be holding play practice at CMS from 3:45-5:15 pm for the student performers. Please be aware of this late change and ensure you have arrangements for your child after practice is over. Thank you!

Dear CMS Track, Golf and Tennis Parents/Guardians- Due to weather conditions, all of our spring sports are canceled for tonight. Please ensure you child has arrangements to get home after school. Thank you!

Dear CMS Parents/Guardians- Our students will be taking the math portion of their MAP test tomorrow morning from 8:00-10:37 am. They will take the follow up Language Arts portion on Tuesday, May 11 from 8:00-10:37 am as well. Please help encourage your child to do the best job possible, get good sleep and have a good breakfast to help with the testing. Thanks so much!

Dear CMS families- a reminder that PCSD6 will be closed next week for our scheduled Spring Break vacation period. We hope you have a safe and enjoyable time away from school. See you all back on Monday, April 5th.


Good Afternoon Park #6 Families! The district is experiencing a network issue with our internet. Due to this, our telephone systems are temporarily down. We are working on this issue.

CMS Basketball parents/guardians- Tonight's practice will be held for 7th and 8th grade but it is not required. If you feel that due to weather conditions, it is safer and easier for you to grab your student after school, please plan accordingly. Also, there will be no practice tomorrow (Friday) for the 7th & 8th grade teams.

Wishing everyone a wonderful weekend! A reminder that there is No School on Monday, January 18th in order to observe MLK Day. Enjoy the long weekend!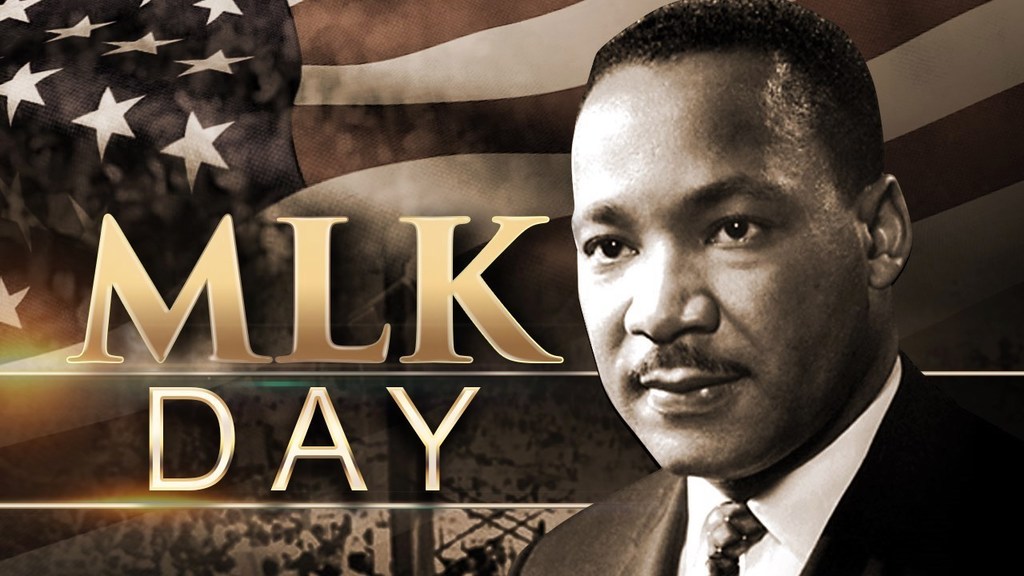 Dear Parents/Guardians - I want to share the most recent protocols for our winter sports seasons. Please be advised these could change as needed. CODY PUBLIC SCHOOLS WINTER SPORTS ENTRY PROTOCOLS NO GENERAL ADMISSION FOR WINTER SPORTS PLEASE DO NOT ENTER OUR FACILITY IF YOU HAVE ANY SIGNS OR SYMPTOMS OF COVID-19 PROTOCOLS: 1. Winter Sports: a. Spectators are required to wear masks at all times while in the building. b. No waivers or medical exemptions will be accepted. c. Spectators will not be allowed in team areas. d. No concessions will be available. e. No food or drink of any kind will be allowed in the gym. f. Spectators will leave venue immediately following contest. i. No congregating in building before, during, or after contest. FACILITY LIMITS: 1. Cody High School - Sweitzer Gymnasium a. Basketball i. Each home and away player will be allowed 4 spectators per game. b. Wrestling i. Each team will be allowed 50 spectators per match. 2. Cody Middle School Gymnasium: a. Basketball i. Each home and away player will be allowed 4 spectators per game. 3. Livingston Elementary School Gymnasium: a. Basketball i. Each home player will be allowed 4 spectators per game. ii. Each away player will be allowed 2 spectators per game. 4. Sunset Elementary School Gymnasium: a. Basketball i. Each home and away player will be allowed 2 spectators per game. 5. Cody Recreation Center a. Swimming i. Each home swimmer will be allowed 2 spectators per meet. ii. No away spectators will be allowed. When entering facility, spectators will gain access to the contest thru roster check-in. Please note spectator limits per athlete. You will be required to leave facility after each contest. All contests in Sweitzer gymnasium will be streamed at NO cost on the NFHS Network.

We hope you've experienced a safe, blessed and wonderful break! See everyone on Monday, January 4th at 8:00 am!

Dear CMS families-Wishing every one a safe, happy and wonderful Christmas/Winter break. We will see everyone on January 4th, 2021!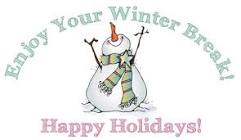 Dear CMS Staff, Students and Families, Next week CMS will be celebrating the holiday season with 12 Days of Christmas/Winter Cheer! Students and staff can participate in the following activities starting December 7th - 22nd. During the first week, CMS Student Council will be sponsoring two donation drives: The Holiday Helper Drive - Students can bring in the following new, unwrapped items that will be distributed to local families: chapstick, art pencils, art paints, pillows, Lego sets, gift cards, and wrapping paper/tape. The CMS Toy Drive - Students can bring in clean, gently used toys that will be distributed to a local charity. * Donations can be placed in the wrapped boxes located outside the Media Center. Guidelines for Dress-up days: CMS dress code enforced – no bare midriffs or "revealing" clothing, appropriate shoes must be worn, etc. You must be able to sit, walk, breathe, see and hear! (Only norml face masks; no masks that cover the entire face). Eye Masks that cover just the eyes will be allowed as long as they are no larger than what a pair of sunglasses would obscure. Costumes cannot promote use of drugs, alcohol or weapons of any kind! No face paint allowed. No real or pretend "prop" weapons such as water pistols, knives or swords! All school rules will be enforced (i.e., no bikes or skateboards, etc.) Costumes may not be offensive or inappropriate in any way, which will be determined by school administration. 12 Days of Christmas/Winter Cheer Activities Week 1 December 7 - 11 1. Wear Ugly Sweater and/or Face Mask Day / Holiday Helper Drive begins Monday, December 7th 2. Kind Note day to CMS staff Tuesday, December 8th. *Deliver to the Santa mailbox in front of the Media Center 3. Wear Red and Green today Wednesday, December 9th 4. Candy Canes to students in advisory from StuCo and NJHS Thursday, December 10 5. Santa Dress up Day Friday, December 11 *Holiday Helpers Drive ends Week 2 December 14 - 18 6. Holiday Thank you notes for emergency personnel Monday, December 14 *This will be done during Advisory. 7. Fun Hat / Sock Day Tuesday, December 15 8. Snowflakes with kind messages on Advisory Door Wednesday, Dec. 16. *This will be done during Advisory. 9.Dress as a holiday movie character Thursday, December 17 10. Sit with someone new at lunch and/or during Advisory Friday, December 18 Week 3 December 21 - 22 11.Holiday Movie Day in Advisory (Link will be provided for teachers) Monday, Dec. 21 12.Animal Shelter Fundraiser ($1 dogs/50 cents cats) Tuesday, Dec. 22 * The money boxes are located in the Media Center. Thanks for supporting CMS 12 Days of Christmas/Winter Cheer Activities, CMS Student Council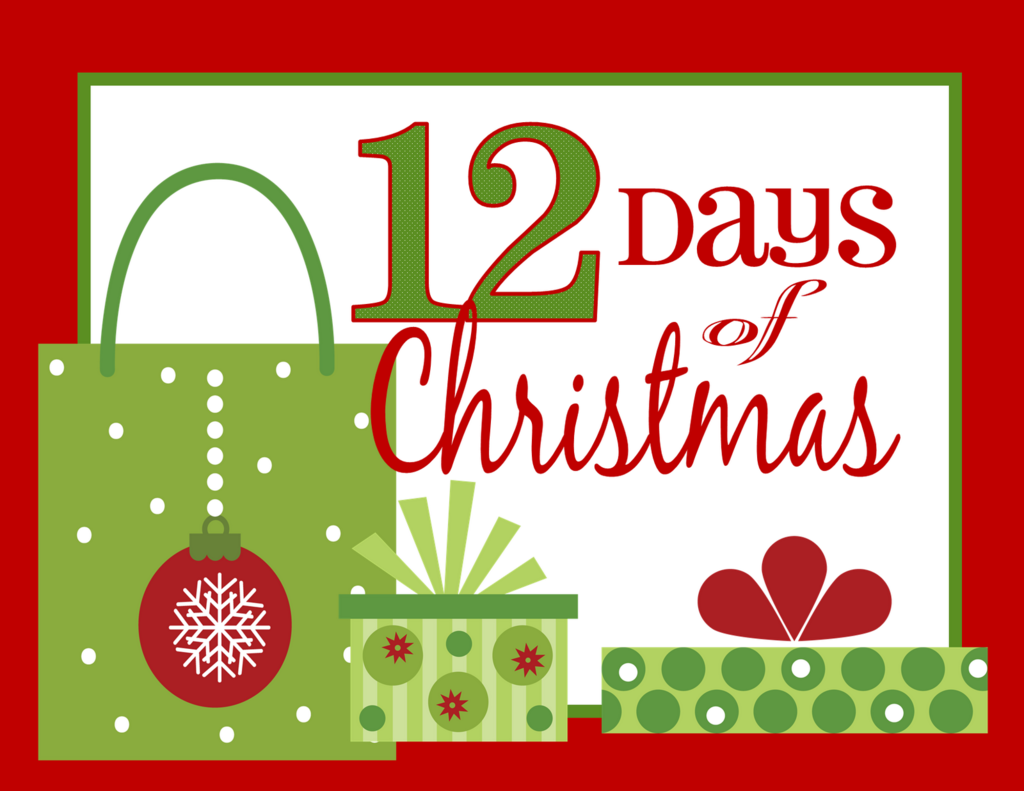 Learn to stake, free day!