Student supply lists are posted on the Cody Middle School Website. Click the "menu" located in the top right Go to the "Parents and Students" section Click on "Student Supply List"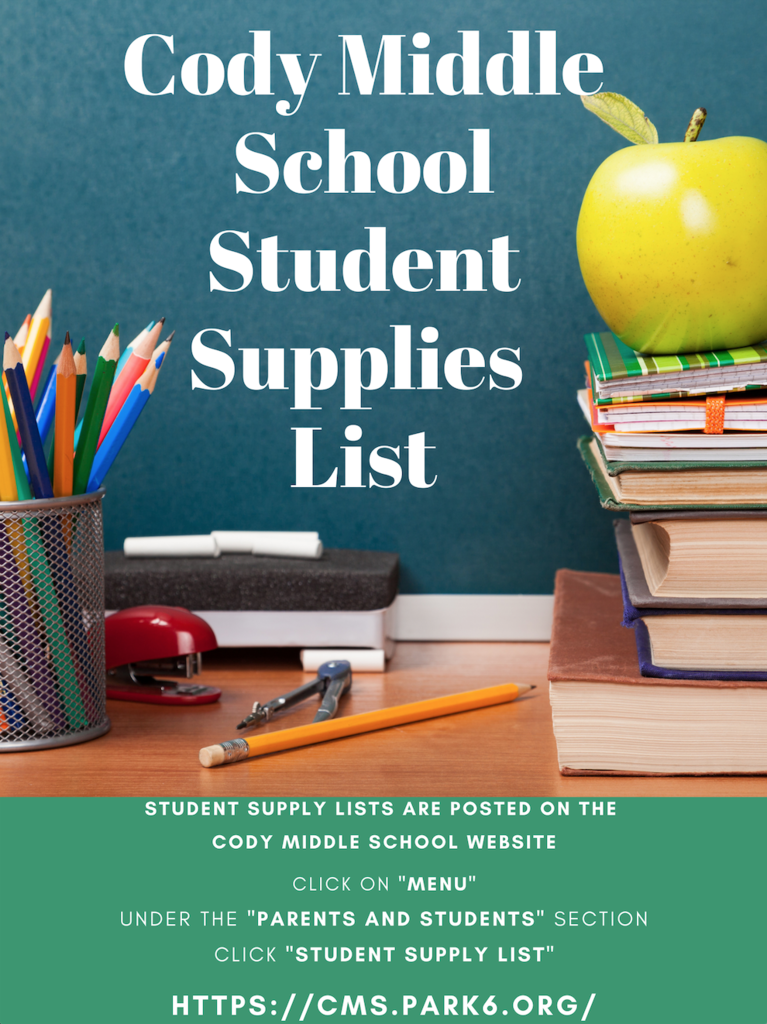 Cody Middle School Back to School Announcement! Cody Middle School will welcome students for their first day back on Tuesday, August 23rd! Online registration is now open for all new students! Online Registration is user-friendly when using a computer! Parents of returning student can register starting on Monday, August 1st. 6th Grade Orientation is from 2 pm - 6 pm on Monday, August 15th. Back to School Night will be from 4:30 pm - 6:30 PM on Wednesday, September 7th.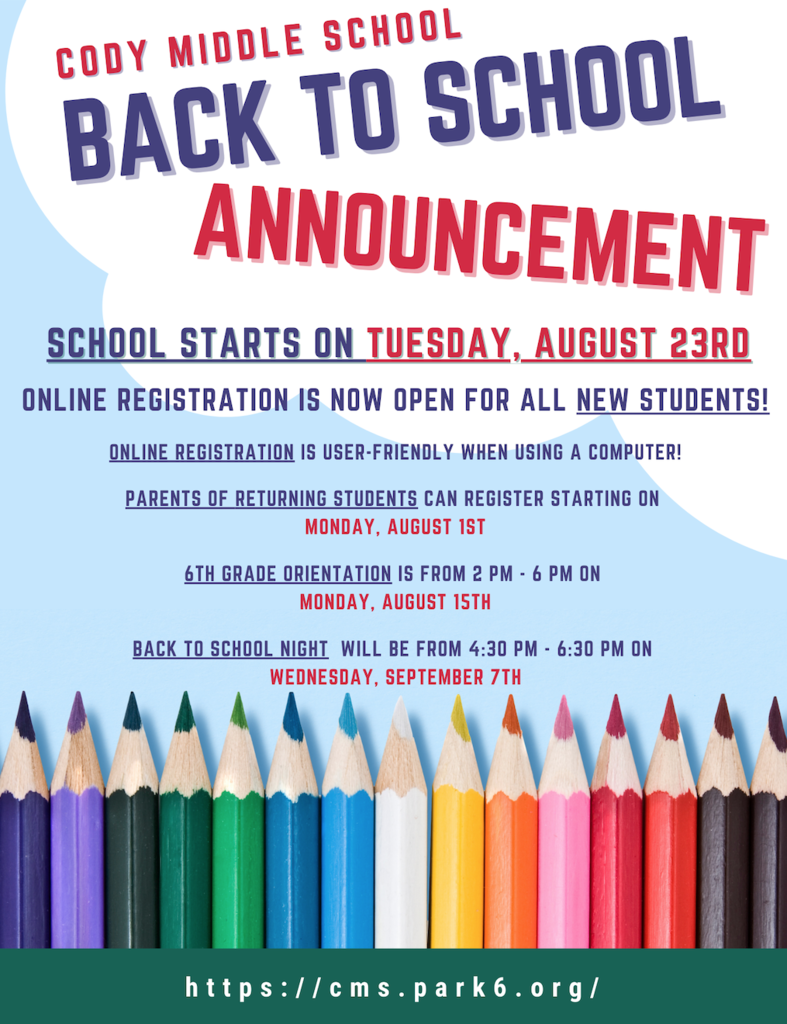 Good Morning Cody Middle School Community, This morning Principal Tedjeske and Assistant Principal Gogan will be at The Station by Cody Coffee from 9 - 11am. We love getting to meet with community members, families, staff, and students. We hope to see you there!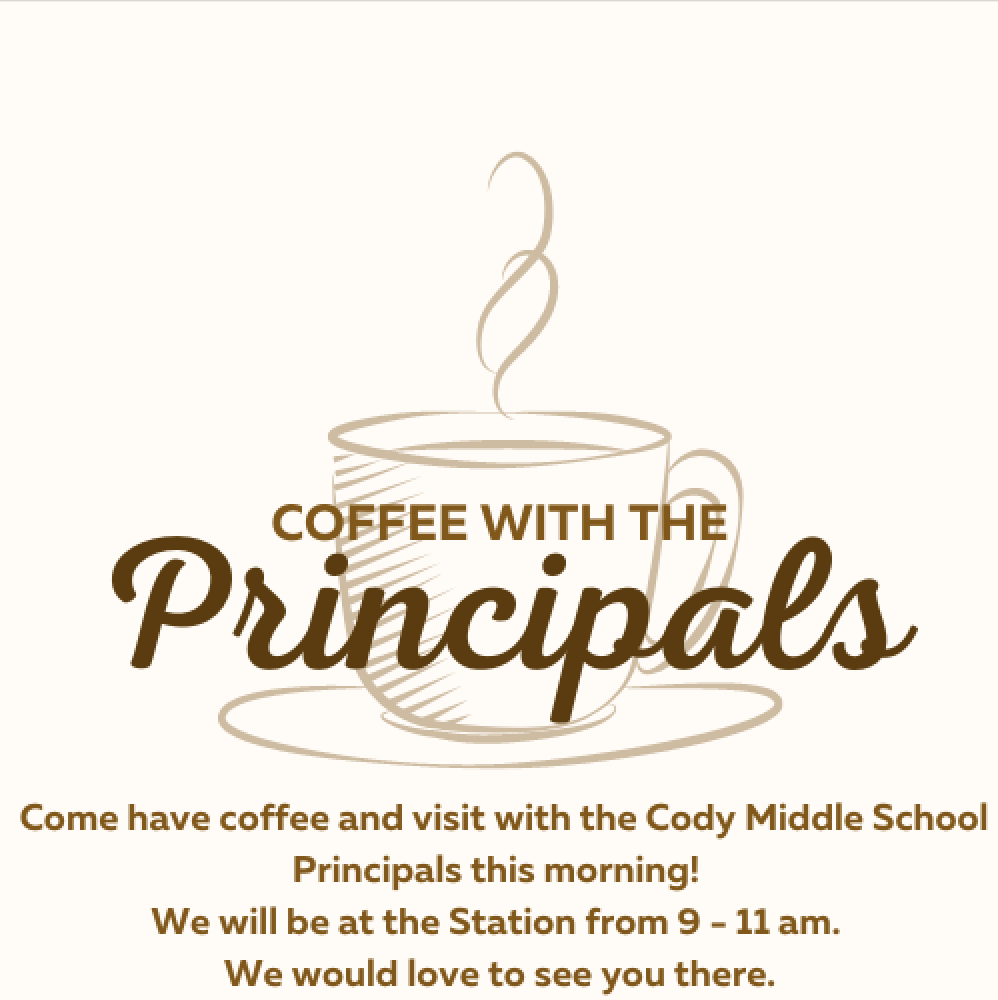 Hello everyone, Cody Middle School admin will be doing "Coffee with the Principals" again this summer. On July 9th and 16th, Mr. Tedjeske and Mr. Gogan will be at The Station from 9am-11am. Anyone is welcome to pop in and have a conversation! We look forward to speaking with anyone wanting to stop by. Thanks and have a wonderful summer!

Attention CMS Families, There is an opportunity for any 8th grade student wanting to play girls basketball to get some extra work in this summer. The summer league schedule just came out! It's more about development than competition, and there is no cost! Athletes would be responsible for their own transportation to away games. Athletes do not need to attend all games but Coach Buck would like to know which games you can attend. Also, summer workouts and open gyms have started. For more info or if you are interested in Summer League Basketball please contact Coach Buck. Coach Sam Buck (307) 431 - 6627
sambuck@park6.org

Mrs. Manuele's enrichment class has been busy brightening the hallways over the last few weeks at CMS. Cody Middle School students worked hard to create clay slab fish that were glazed and mounted to the wall and they painted this colorful mural! Thank you to Big Horn Paint for donating the paint! We are proud to be a part of the Cody Community!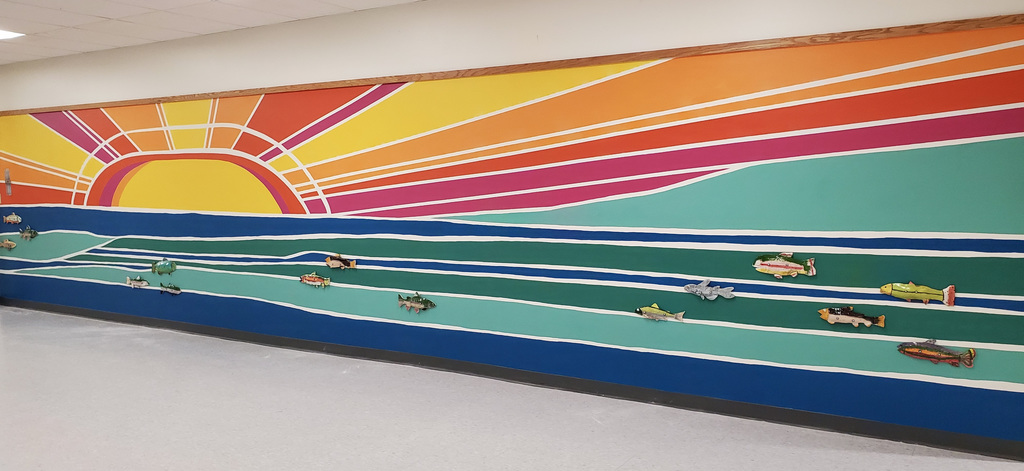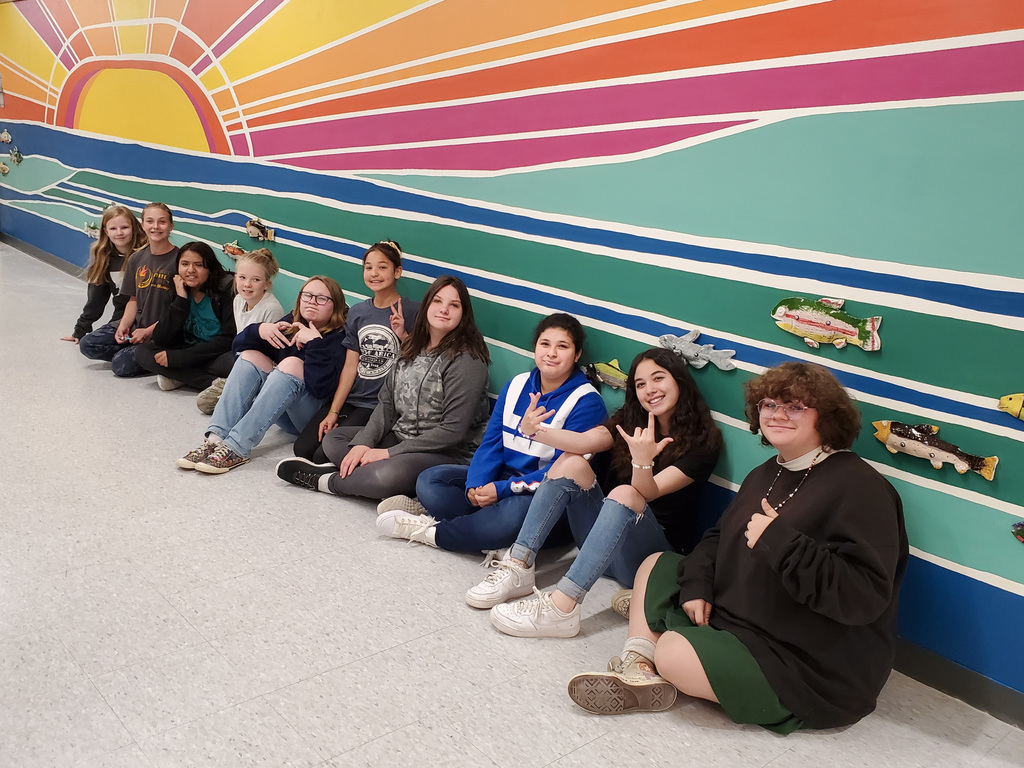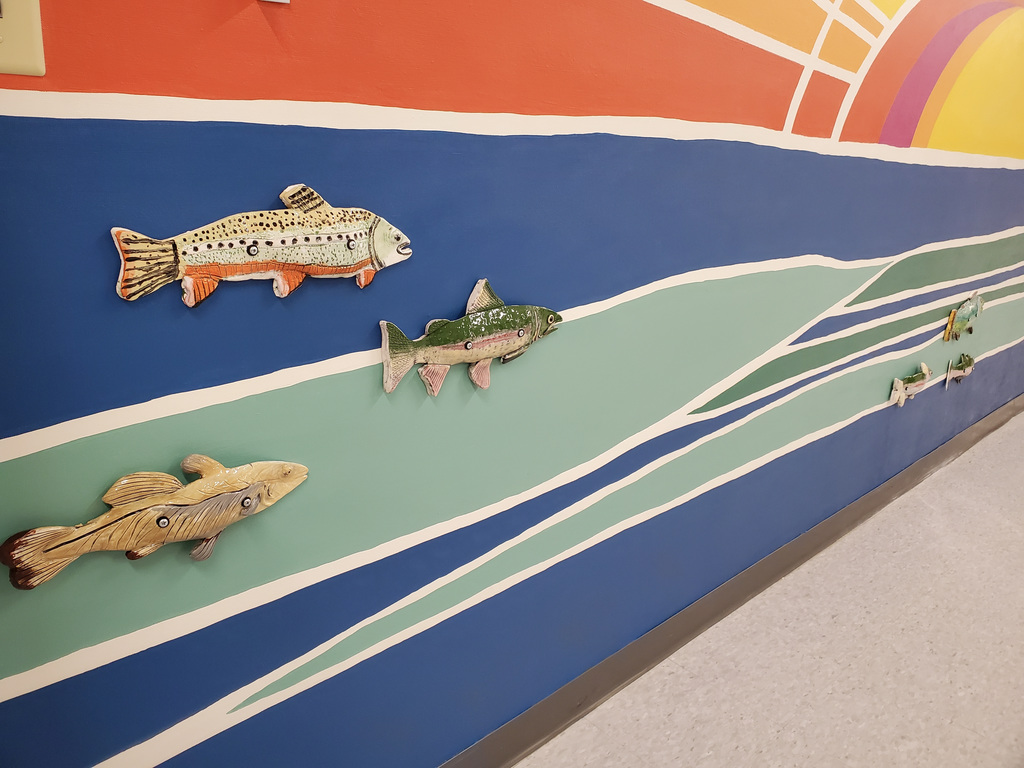 Dear Cody Middle School Family, This is just a reminder; students' last day of school will be Thursday, May 26th. We will NOT run a late start schedule that day. Classes will start at 8:00 am. Classes will end at 1:50 pm. A copy of that schedule has been provided with this communication.

Congrats to our 3 Cody Middle School National Junior Honor Society College Scholarship winners! These 8th graders received a $100 college scholarship. The future is bright for these three Fillies! The student winners were Aubree George, Sydney Simone, and Ellie Talich. Way to go!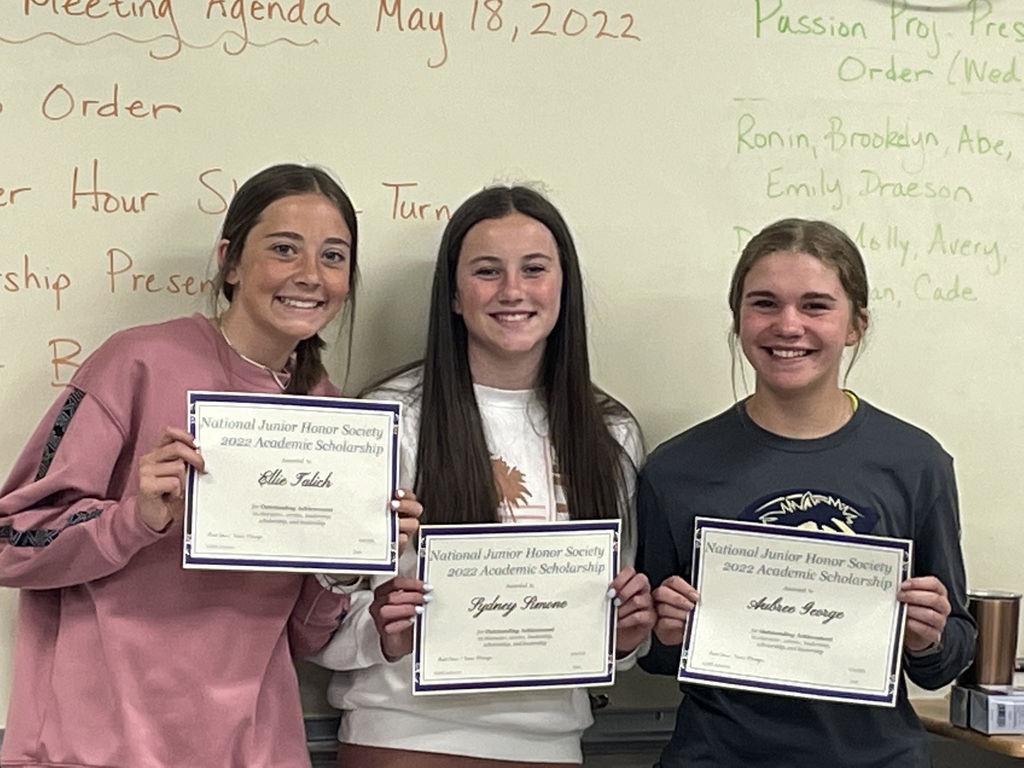 Way to go Broncs and Fillies! The CMS Bronc and Filly Knowledge Bowl Team competed recently in the Big Horn Basin Knowledge Bowl. Our students placed 4th! The team consisted of Sunday Schuh, Charles Becker, Ronin Ribera, Tommy Sitz, Carlyn Murray, Alayna Hutchison, and Rose Whelan. We are proud of our students!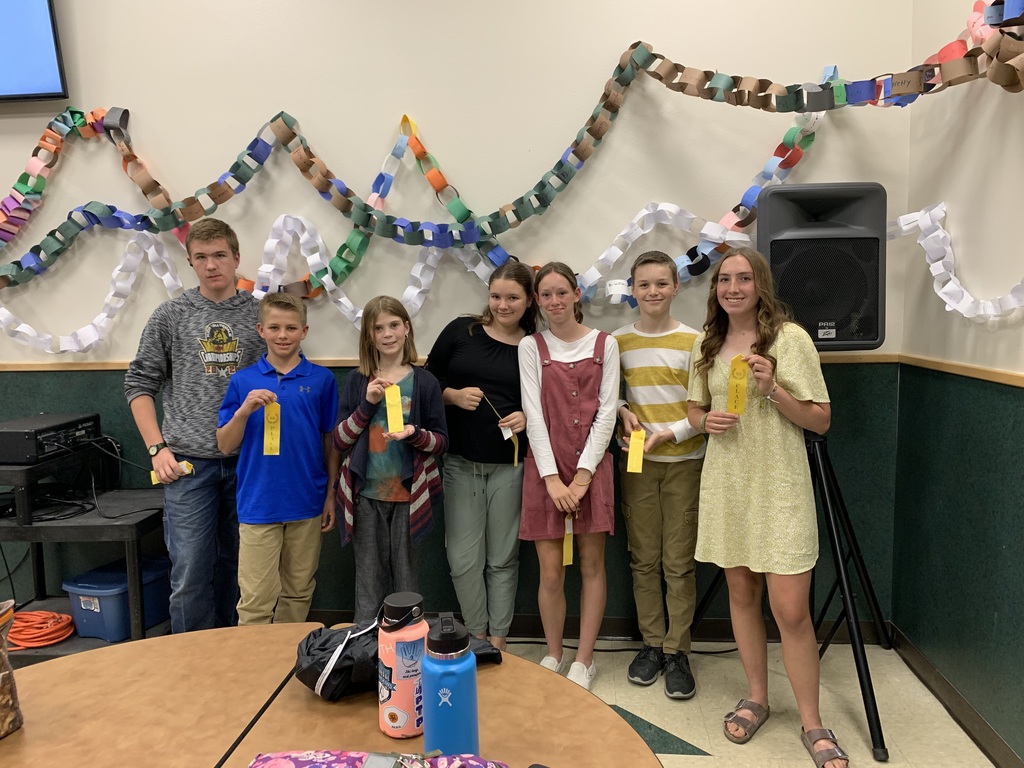 Dear Cody Middle School Family, We wanted to share some important information for the end of the year. Students' last day of school will be Thursday, May 26th. We will NOT run a late start schedule that day. Instead we will run an early release Friday schedule. A copy of that schedule has been provided with this communication.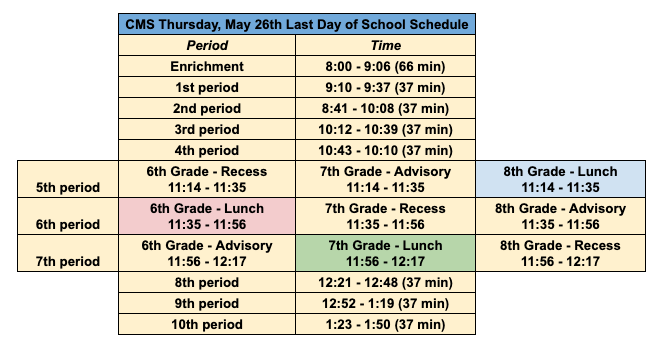 Yesterday Cody Middle School 7th graders donated their time at the Veterans Memorial Park here in Cody. CMS Students have historically cleaned up the park prior to the annual Memorial Day service held at the park. Our kids did a tremendous job pulling weeds and making the park look great! A huge thank you goes to Ms. Skoric and Mr. Kraft for making this happen!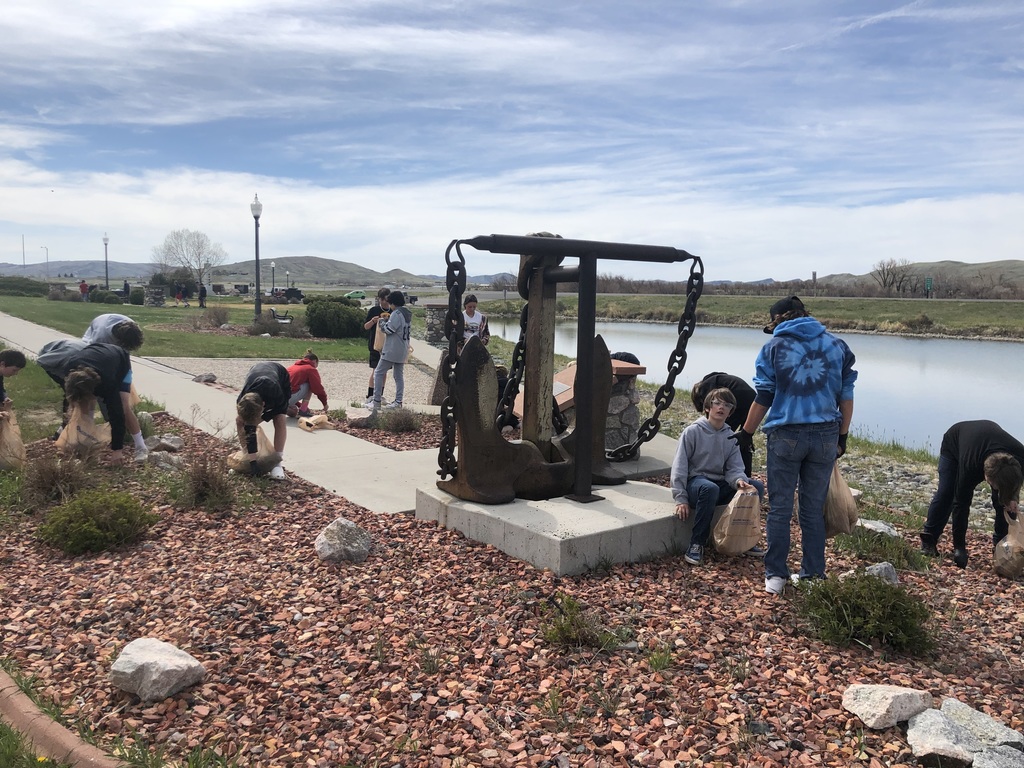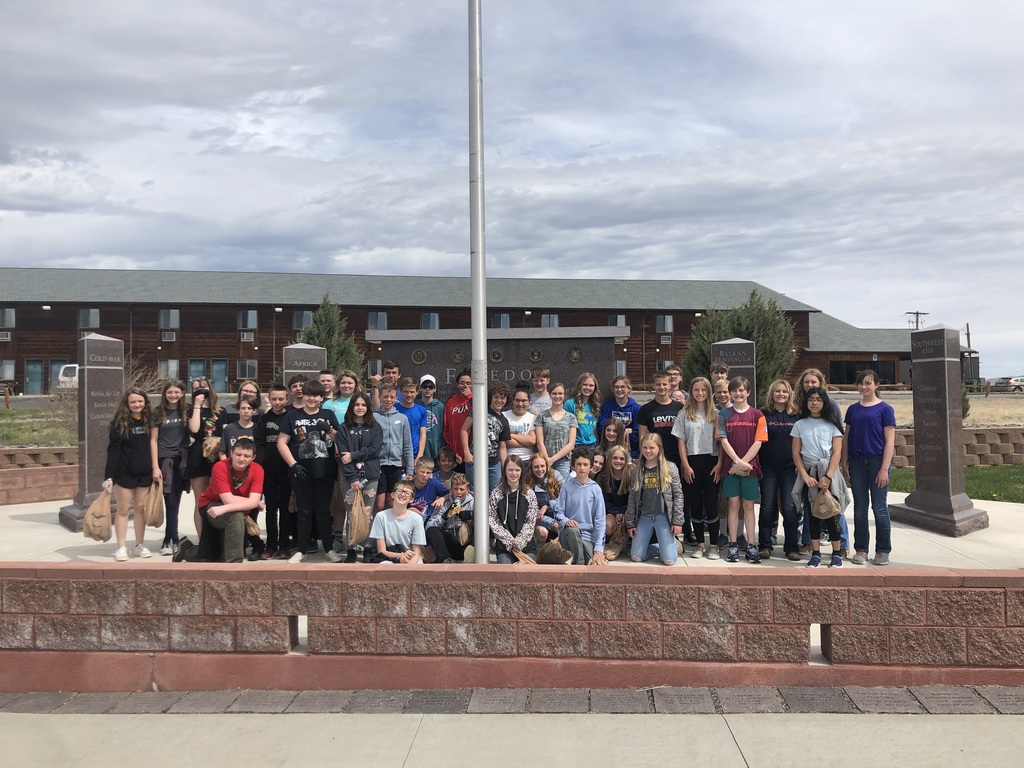 Dear CMS Families, Cody Fillies Volleyball is hosting a Youth and Middle School Camp this Summer! Who: Grades 4-8th (as of Fall '22) Dates: June 28, 29, 30 (T-TH) Time: 4th-6th grades - 8:00am-9:45am; 7th-8th grades - 10:00am-Noon Where: Cody High School Cost: $25 To sign up please contact Nicole Gwynn, Head Volleyball Coach, Cody High School: 406.544.9275 (
nicolegwynn@park6.org
)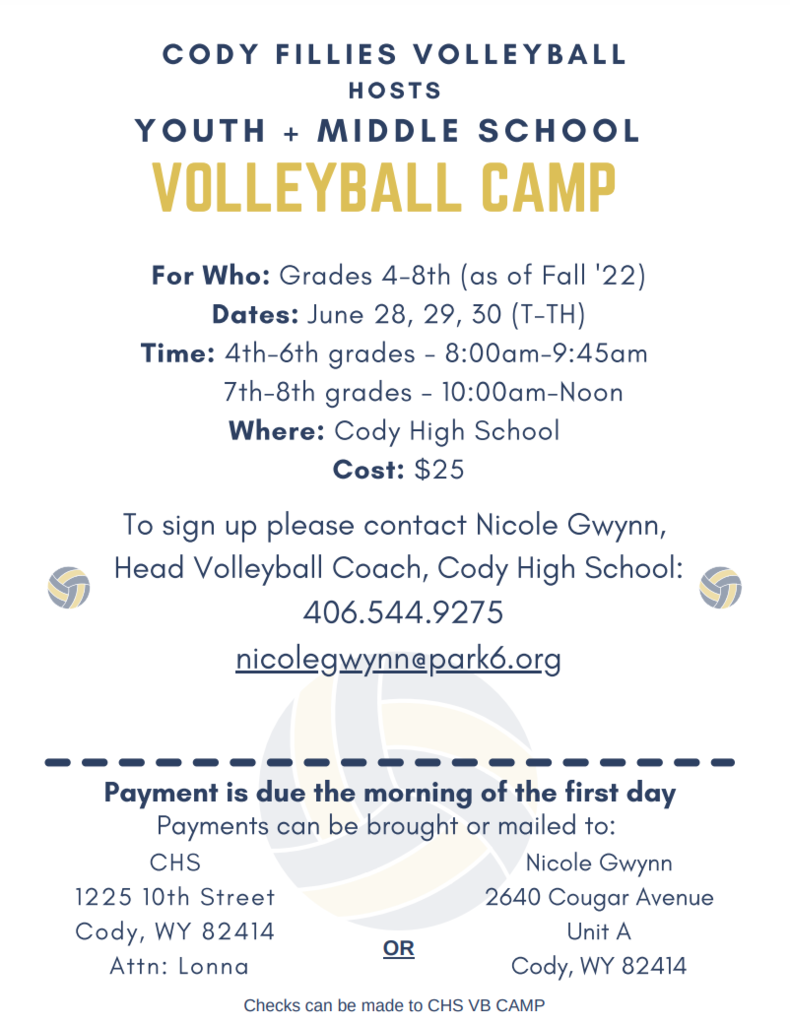 Dear CMS Families, This is just a reminder that next week on Wednesday, May 25th, CMS Students will be traveling off campus as a part of an End of the Year Celebratory Activity. Students will need to turn in their signed permission slips no later than Friday, May 20th. Students not eligible to attend will be notified this week via email. 6th Grade will be going to Dead Indian Campground for activities. 7th Grade will have the option to hike/rock hound, mountain bike, and/or fish at Beck Lake/Red Lake. 8th Grade will be traveling to Thermopolis.

Dear Cody Middle School Parents/Guardians, Last week we sent out an Elective Registration Form to all students who will be attending Cody Middle School Next Year. Many of you have completed the form, and we thank you. If you have not completed the forms, please do so as soon as possible. We are already hard at work building schedules for next years' students! Links are attached below. 6th Grade (Current 5th Graders)
https://forms.gle/YN2iccguTDPfgLff7
7th Grade (Current 6th Graders)
https://forms.gle/BoDSuLhnc4ghNhar6
8th Grade (Current 7th Graders)
https://forms.gle/DhE4ZKjMoPQYzZHc8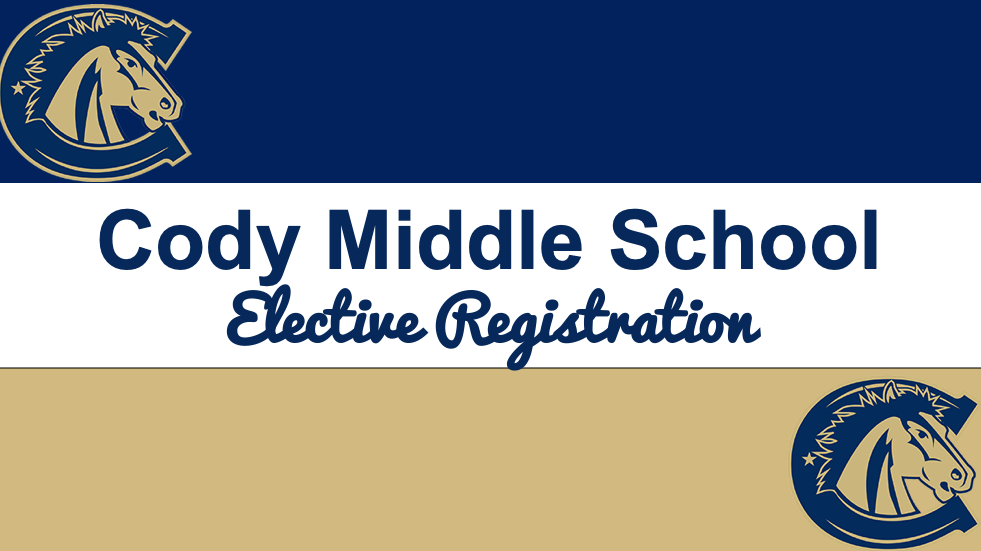 Today is School Nurse Appreciation Day! Nurse Brewer is incredible, and we are fortunate to have her as a part of our Bronc and Filly family. We appreciate her and ALL that she does!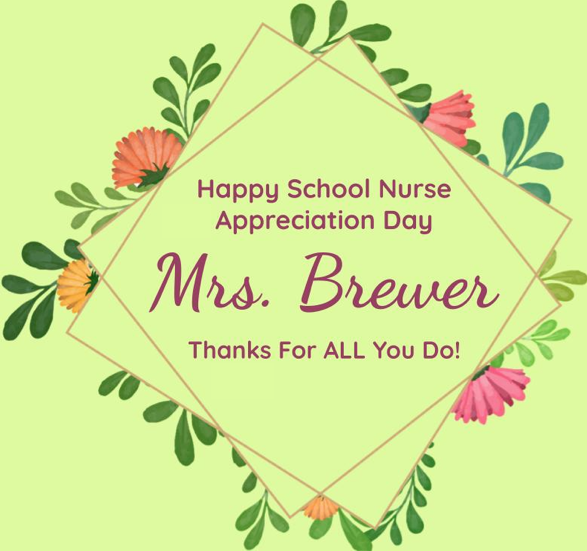 CMS Parents, We got some great news today! Mr. Randolph has worked his schedule and he will be able to add 2 morning sessions of guitar for CMS students. These will be during the Summer Slam program! Here is the direct link to these classes.
https://www.signupgenius.com/go/9040B4EA9A728A5F94-middle1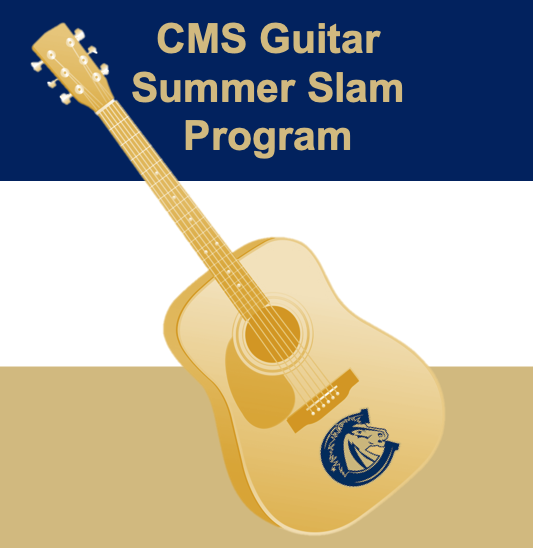 Dear Parents/Guardians of Cody Middle School Students, Cody Middle School just sent out, via email, a link for Elective Class Registration. This email should have gone out to all incoming 6th grade, 7th grade, and 8th grade parents/guardians. Please complete the form with your student no later than Monday, May 16th. If you did not receive the form please contact Cody Middle School.

Happy Food Service Worker's Appreciation Day! We are so grateful for all of our hardworking Food Service Workers. They have done so much over the last couple years, and we cannot thank them enough for their time and talents.

Dear Cody Middle School Parents/Guardians, We are beginning the process of scheduling class assignments for the 2022 - 2023 academic school year at Cody Middle School. Your input is valuable to us throughout this process. If you have any pertinent information about your student that you want CMS Administration to be aware of during this process, please complete the survey linked below.
https://forms.gle/ATqYRfnWHcVXR1zT6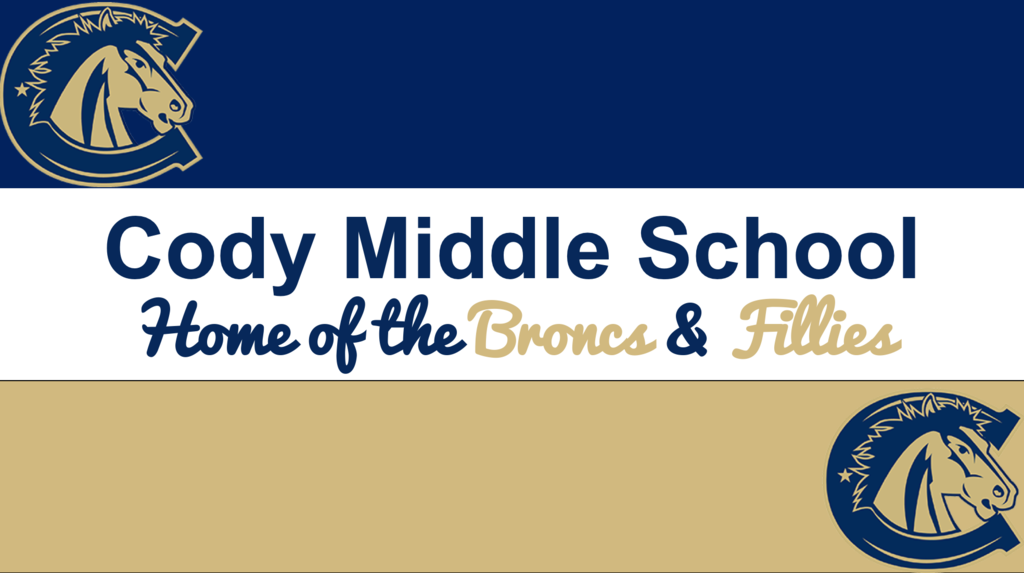 Happy Administrative Professionals Week! Mrs. Umphlett is wonderful, and we are so thankful to have her as part of our CMS Family! We appreciate ALL the work that she does for our families, students, and staff!